Welcome to Santa Barbara
Located on a pristine stretch of California's central coastline, Santa Barbara brings together the Golden State's Spanish influence, laid-back vibe, and upscale sensibility in a way few places can. There are seaside escapes. Then there's a gentle crescent of California coast connecting breathtaking beaches, soaring mountains, verdant vineyards, elevated enclaves, and eclectic communities. Where the sea and mountains feel as one, the sun feels more golden, and the valleys overflow with a bounty of color. Discover what Santa Barbara has to offer, from exhilarating outdoor adventure to fascinating arts and culture to an incredible variety of local food and wine.
Additional Accommodation Available!
Mar Monte Hotel – The Unbound Collection
Steps from the beach, our boutique hotel is your home away from home, impeccably crafted for the modern traveler. Our devotion to good food, great cocktails and making memories is what makes Mar Monte Hotel special.

Rooms – $289/night + taxes & fees
*Additional $30/night resort fee charged on arrival
*Book by the deadline of April 10th to secure a room
Booking a reservation:
Click on the Hyatt Link below
Enter your arrival/departure dates (April 26th – April 29th)
Choose the room type
Follow the instructions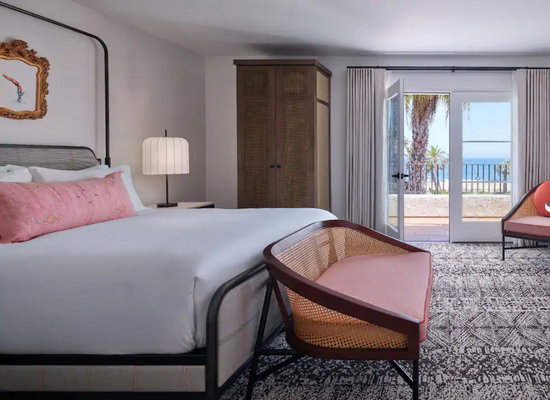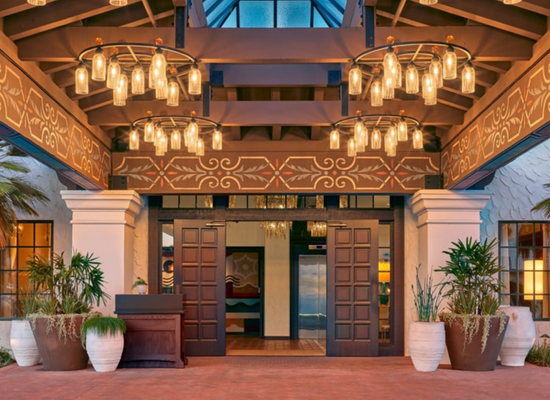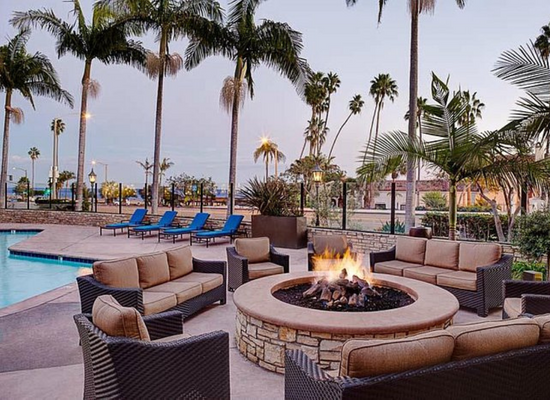 Venue
Hilton Santa Barbara Beachfront Resort
An oceanfront oasis, near the Funk Zone district
Located just across from East Beach and one mile from the Funk Zone district, Hilton Santa Barbara Beachfront Resort is the ideal place to stay to experience Santa Barbara. Enjoy our 24-acre beachfront resort with tree-lined pool and tennis courts, on-site wine tastings, salon and spa, and much more.
Relax and enjoy the view with all-day dining options. Wake up with Starbucks coffee from our café and a hearty breakfast at Roundhouse. Cozy up with s'mores around an oceanfront fire pit and join us on the Set's patio for dinner, drinks, and dessert.
Mountain View Rooms – $264/night + taxes & fees – SOLD OUT
Additional Rooms – $369/night + taxes & fees –SOLD OUT
*Additional $15/night resort fee charged on arrival (inclusions)
*Book by the deadline of March 27th to secure a room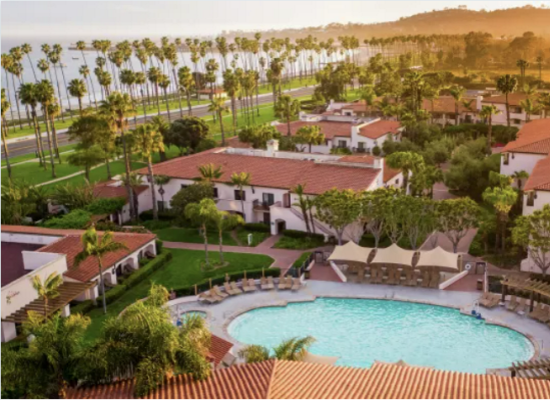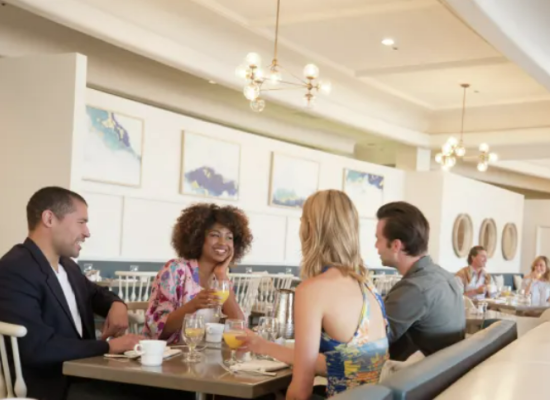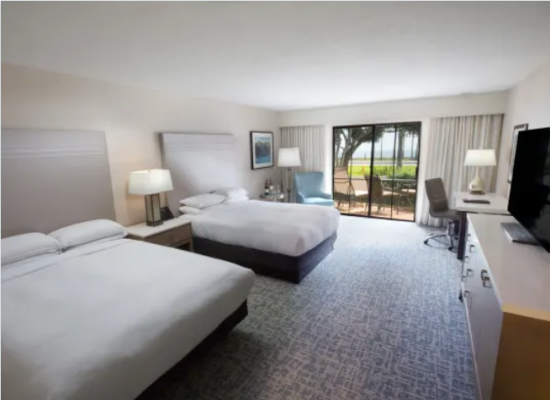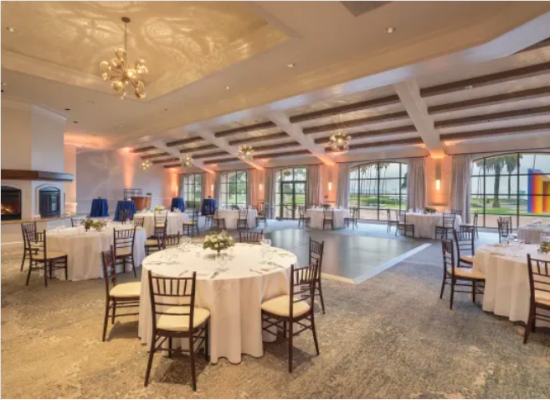 Getting Here
Whether driving up the coast from Los Angeles or flying in from a distance, Hilton Santa Barbara Beachfront Resort is easily accessible by plane, train, or automobile.
Santa Barbara Municipal Airport (SBA) is 11 miles from the resort, and we're a mile from the Amtrak station. Complimentary shuttle service is available with 24-hour advance notice. Check our hotel shuttle availability and reserve your spot before you arrive.

With daily departures and multiple nonstop flights to and from major hubs, including Dallas, Denver, Los Angeles, Las Vegas, Oakland, Phoenix, Portland, San Francisco, and Seattle, it's relatively easy and convenient to fly to Santa Barbara and experience the stunning beauty, delicious cuisine, and fun activities you'll find in The American Riviera®.
SANTA BARBARA AIRPORT NONSTOP FLIGHTS AND CARRIERS:
Alaska®Airlines – Seattle (SEA), Portland (PDX), and San Diego (SAN)
American Airlines – Dallas (DFW) and Phoenix (PHX)
Southwest Airlines® – Denver (DEN), Oakland (OAK), and Las Vegas (LAS)
United – Denver (DEN), Los Angeles (LAX), San Francisco (SFO), and seasonal service to Chicago (ORD)
Other Nearby Airports
Los Angeles International Airport (LAX) is located about 90 miles southeast of Santa Barbara. Serving 69 international destinations and 87 domestic destinations, the airport offers flights on virtually every major carrier.
For more information, fares, and schedules for shuttle bus service from LAX to Santa Barbara, please check Santa Barbara Airbus.
Hollywood Burbank Airport is located about 85 miles southeast of Santa Barbara and serves 12 domestic destinations on seven major carriers.
International Travelers
It is your sole responsibility to ensure that you have all the travel documents necessary to enter in, or transit through, each country on your itinerary. Please ensure you verify the requirements for each country as the required documents for the outbound portion of your travel may differ from those required on the return.
For more information about traveling to the Unites States for short-term business, please visit U.S. Department of State website, here. 
For more information about COVID-19 in Santa Barbara, please visit the Santa Barbara Airport website, here. 
Letters of Invite
Letters of invite can be provided to international delegates who may require a letter for Visa application.  Please note, full conference registration and payment must be arranged prior to a letter being provided.  Please email us for more information.
Temperatures are considered comfortable in April and range from warm to cool with daily highs of 21°C and lows of 11°C (70°F/52°F). We recommend bringing layers and a mid-weight jacket to protect from the sea breeze.
The currency in use in California is the United States Dollar (USD).
The most commonly used language is English.
There is a combined total state, county, and city sales tax rate of 8.75% in Long Beach, California. There is a 12.283% Accommodation Tax and $5.50/room night Santa Barbara Tourism Business Improvement District Assessment Fee in effect as well.
It is customary to tip waiters, taxi drivers and hairdressers 15%-20% of the bill before taxes. Bellhops, porters, and doorman etc. generally receive $2 per suitcase or service. Tipping at coffee or food counters is not necessary, but always appreciated if you have some spare change.
In case of emergency: 9-1-1
California Poison Control System: 1-800-222-1222
The United States operates on a 120V supply voltage and 60Hz. The power sockets accept both Type A and Type B plugs. Non-North American visitors should bring a plug adapter if they wish to use their own small appliances from home (razors, hair dryers, laptops, etc.).
Smoking is prohibited indoors throughout most of California, including any public enclosed spaces such as airports and post offices. Some public facilities and hotel and motel rooms do offer designated smoking zones or rooms.